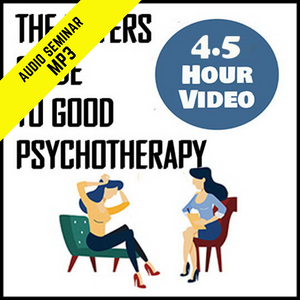 Detail-Rich Educational
Choosing a psychotherapist could be one of the most important, personal decisions you will ever make. This detail-rich instruction will help you make the best-informed decision possible. It is designed to answer most questions, many of which you didn't even know to ask. You can expect to learn crucial information that everyone should know when they are seeking the help of a highly qualified, effective psychotherapist.
Ross Rosenberg
Ross Rosenberg has 32 years of experience as a psychotherapist, clinical supervisor, administrator and educator. Through his professional as well as his own personal life experiences, he has gathered a great deal of information about the mental health and psychotherapy fields and is now sharing it with you. Such an immersion has given him a bird's-eye perspective into what others should know in order to get what they need and deserve when seeking a therapist.
Must-Have Valuable Resource
This resource is a must-have for anyone seeking mental health services for themselves and/or a loved one. It is designed to help people better navigate the twists, turns and complications of finding a therapist that is the right fit. It will help you to better understand the significance of your role when seeking mental health treatment. In addition, it explains what the personal and relational thresholds are that should compel a person to seek professional help. This video will help you determine the answers to the question: When, where, why, how and with whom do I need to get help?
In this one-of-a-kind instructional and informative video, Ross simplifies this very personal process, while giving common sense tips and guidance. Mental health services, especially psychotherapy is not a "one-size-fits-all" service. You will now have a step by step guide for navigating the myriad of variables that you need to consider when seeking the right provider.