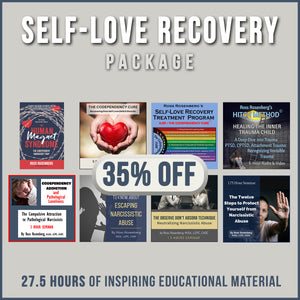 INCLUDED:
Human Magnet Syndrome
The Codependency Cure
The 11-Stage Self-Love Recovery Treatment Program
Codependency Addiction
Everything You Need to Know About Escaping Narcissistic Abuse

Observe Don't Absorb
Healing The Inner Trauma Child (HITCH) Method
Protection From the Narcissistic Storm
Total Hours: 27.5
Reading The Human Magnet Syndrome is absolutely the best place to start learning the foundation of Ross's work and theories. It will be extremely helpful to you on your journey to have that foundational understanding and knowledge. We are including it in digital format.