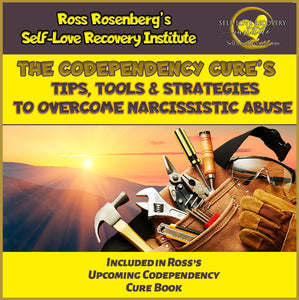 Student, Senior & Other Discounts Available. Click Here for Details.
The Codependency Cure's Tips, Tools & Strategies to End Narcissistic Abuse, Practical and Therapy-Like Instruction
By Ross Rosenberg. M.Ed., CADC
Originally a part of The Fifty Shades of Pathological Narcissism webinar series.
This one-of-a-kind, exclusive presentation will deliver ground-breaking, revolutionary information that mirrors therapy with Ross. With over 30 years of experience as a psychotherapist and narcissism expert, Ross has developed ext­­ensive knowledge on the strategic ways to escape narcissistic abuse, and to prevent falling back into the trap of the dangerous and hostile pathological narcissist.
In this presentation, Ross explains how such important practically oriented, easy to apply material fits in his Codependency Cure treatment program. Other than being in Treatment with Ross, there is no way to obtain this exciting, and life-changing instruction.
Expect a riveting and highly engaging presentation that will be packed with content that has already received millions of supportive comments and reviews on his YouTube channel. Equip yourself with the knowledge to counteract the common manipulation, power dynamics, and mind control strategies that narcissists use to keep you imprisoned.
For over 12 years, Ross has been educating a global audience on his narcissism-related, cutting-edge material.  His dedication to his beloved subjects has earned him a reputation of being an engaging, relatable, down-to-earth, highly organized, and immensely educational presenter.
Ross's "Fifty-Shades of Pathological Narcissism" webinar is a career defining moment, as for the first time, he will be presenting all his ground-breaking contributions on Pathological Narcissism, Narcissistic Abuse Syndrome, and practical techniques/instructions to escape it.  More importantly, Ross is finally presenting material from his highly anticipated upcoming "Codependency Cure™" book.
Anticipate an inspirational, emotionally moving, and highly educational experience, like no other.  True to Ross's presenting/educational style, each of the three seminars are comprised of useful and practical information that is not available anywhere else. Should it be too much material to remember and process, not to worry, because he provides an extremely detailed handout.