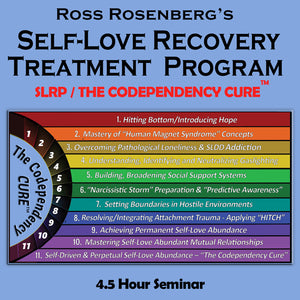 UPDATED*
The 11-Stage Self-Love Recovery Treatment Program/ SLR
The Codependency Cure™
SEMINAR DESCRIPTION:
4.5 hours video seminar for professional and laypeople.
Recorded in May of 2021, from live presentation.
PowerPoint handout is included, in PDF format.
*If you purchased a previous version of this seminar, please send us your name and date of the order to help@selfloverecovery.com and we will send you back a 50% discount code.
Ross Rosenberg is always thinking, developing, clarifying…perfecting his theoretical and practical work on the treatment of Self-Love Deficit Disorder/SLDD™ (codependency).  Seven years after presenting his 10-Stage Self-Love Recovery Treatment Program/ SLR Model, Ross created a vastly improved SLR treatment model.  We are proud to present Ross's 11-Stage SLR Model, which was recorded on video and audio on May 6, 2021, for The Hart Center in Australia. Although this training was presented to psychotherapists, the content is clear and comprehensible to the general public.
This seminar provides the necessary information about the only treatment program that permanently solves SLDD/codependency.  Although this is not a step-by-step guide on how to reach the "Codependency Cure™, it will be emotionally evocative, highly informative, interesting, and for some - life-saving.  In addition to being a comprehensive overview of the SLR Treatment Program, it includes crucially important information about: The Human Magnet Syndrome theories, the Self-Love Deficit Disorder/SLDD (codependency) and Self-Love Abundance (Codependency Cure) Pyramids.  In addition, it includes other relevant information on SLDD addiction, pathological loneliness, therapist "blindness," and more! 
The 11-Stage SLR Program's is presented in linear and sequentially organized stages of treatment, which in totality is designed to eradicates or cure Self-Love Deficit Disorder/SLD™ or Codependency. This workshop sets the stage for Ross's other trainings, which are more specific on the exact tools and treatment approaches. 
The seminar audience will learn how and why the treatment program can resolve the foundational causes of SLDD/codependency.  In other words, it will instruct the viewer/listener about attachment trauma, core shame, pathological loneliness, SLDD addiction, and the symptoms that most people refer to as "codependency." The audience will also learn about the problems, roadblocks, and challenges that have to be resolved for the Self-Love Deficient/SLD (codependent), so they can finally solve their life-long battle with Human Magnet Syndrome compelled life-long dysfunctional relationship patterns, narcissistic abuse and gaslighting.
This seminar will illustrate, instruct, and inspire its participants to know more about the resolution of SLDD, and the transformation into Self-Love Abundancy/SLA, the "Codependency Cure."  Participants will learn how the SLR recovery work is both transformative and self-perpetuating – once progress is made, it is virtually impossible to go back to one's SLDD days.  Once an SLD "tastes" self-love, they will develop a lifelong appetite for it!
Learning about this stage-based treatment approach will appeal and make sense to both a prospective client and the treating professional. 
THE ELEVEN STAGES:
Hitting Bottom: Introducing Hope
Mastery of the "Human Magnet Syndrome" concepts
Overcoming Pathological Loneliness & SLDD Addiction
Understanding, Identifying and Neutralizing Gaslighting
Building/broadening Social Support Systems
Preparing for the 'Narcissistic Storm.' Mastery Power and Control Dynamics
Setting Boundaries in Hostile Environments
Resolving/Integrating Attachment Trauma (not included) 
Achieving Permanent Self-Love Abundance
Mastering Self-Love Abundant Mutual Relationships
Self-Driven & Perpetual Self-Love Abundance – The Codependency Cure
---
Coby on May 30, 2020
The 10 stages
I can fully recommend this video course, and actually all the other courses as well. Ross really is the real deal. His teachings gave me hope when I hit rock bottom and finally started downloading one after the other of his videos. He finally brought to light what's wrong with me. He could label it and he doesn't stop there. He is passionate to end suffering and bring healing to co-dependency or self love deficit disorder, as he calls it. One of the favorite quotes of Ross is: "it's never too late to become the person you are supposed to be". I think Ross is so good because he's been through the painful journey himself of growing up with narcissists and he has done everything to understand what's going on and to solve this problem which is really hard to grasp, especially if you have been brainwashed and gaslighted throughout your childhood. I was deeply moved about his understanding of pathological loneliness. He's so spot on. He has opened my eyes to so many things, answered so many questions for me although I've never met him. He's a blessing to all co-dependents. If you've come this far, just get the course. You probably really need it.