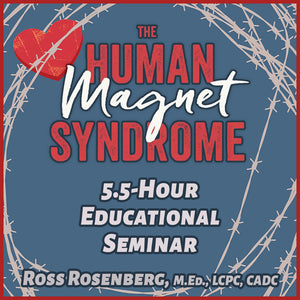 SEMINAR DESCRIPTION:
5.5 Hours Video Seminar for Professional and Laypeople.
Recorded and produced in March 2018, from live presentation. 
The PowerPoint presentation is included, in PDF format.
The "what is" and "why" HMS material and parallels the 2018 HMS book
Rosenberg's original Human Magnet Syndrome (HMS) training given in 30 States/70 cities (and overseas).  
This seminar (version 2) is about the invisible but powerful magnetic-like attraction force that reflexively pulls oppositely "charged" codependents and narcissists into a relationship trance that begins like a dream, but quickly disintegrates into a maddening nightmare. Patient and sacrificing codependents only know how to "dance" with a person whose personality type is opposite but highly compatible to theirs. Similarly, selfish and self-absorbed narcissists are born to dance with codependents, whose personality type fits their own - like hand in glove. Despite the explosion of relationship chemistry, this compatible "opposite relationship" is destined to disintegrate into a painful "seesaw" of love, pain, hope and disappointment. Invariably, the "soulmate "of the codependent's dreams inevitably and predictably becomes the "cellmate" of their nightmares.
This seminar parallels Rosenberg's book, The Human Magnet Syndrome: The Codependent Narcissist Trap (2018). It contains information on gaslighting, narcissistic abuse syndrome, case studies and personal examples of codependency recovery.
Whether a professional or not, this training will rock your world and surely change your ideas about yourself, others and what you know about codependency and narcissism.

All sales are final. There are no refunds.