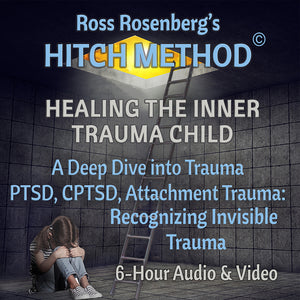 SEMINAR DESCRIPTION

:
6-hours video seminar for professional and laypeople.
From live presentation recorded and produced in July, 2019.
The PowerPoint presentation is included, in PDF format.
This seminar is an indispensable element of Ross Rosenberg's Self-Love Recovery Treatment Program. The HITCH Treatment Method represents a remarkable advancement in the mental health field because it provides direction and hope for psychotherapists and their clients, both of whom have been stymied by the treatment resistant nature of codependency. 
The Healing the Inner Trauma Child Technique (HITCH) provides trauma resolution/integration that is effective with PTSD, CPTSD, Attachment Trauma, and other Dissociative Disorders. It is a powerfully effective psychotherapy treatment approach for Self-Love Deficit Disorder (SLDD) – the updated term for "codependency."
By understanding the root causes of Self Love Deficit Disorder/SLDD, and the treatment technique that resolves it, mental health practitioners and the general public will finally have access to what Rosenberg calls his "Codependency Cure™." Expect a discussion of codependency/SLDD's multiple layers and how they are integrated with the underlying attachment trauma cause. Because attachment trauma is disassociated from a conscious awareness, and most psychotherapists do not have the education or training on how to access it, HITCH gives a therapist the tools to go where most therapist have not been before.  
In this seminar, you will learn about psychological trauma of all types, especially attachment trauma. Trauma severity factors, trauma memory subtypes, as well as how and why the brain processes and stores trauma will be presented. Rosenberg's "Paleopsychotherapy" and his "Trauma Continuum" provides helpful new ways to conceptualize and treat trauma. Expect emotionally riveting case examples and video clips of Ross demonstrating HITCH. 
"The Trauma Memory Triad" reconceptualizes how trauma is processed as it occurs, how the brain safely takes it "offline," and how and why it is stored in an almost impossible to reach compartment in the brain. The Triad's "Body Memories" explains how unresolved, untreated, and/or unintegrated trauma "leaks" through the "dissociative barrier," causing psychogenic (real) medical disorders like Fibromyalgia, back and neck problems, and so many others.
This seminar is not only beneficial for various helping professions, but it holds equal value to a general audience. Considering most mental health practitioners and other helping professionals have struggled with their own codependency/SLDD, this training will resonate and have deep emotional impact on them as well.
All sales are final. There are no refunds.
---
Reema Raimane on Aug 27, 2020
It helped me get through the 7th stage of SLDD cure
I am 30 yr old from a middle class family in Indian, even after following my passion through philanthropy.. no therapy seemed to work. After feeling helpless, I was on my own path of SLDD wherein I had meticulous passed the 6 steps of the recovery without watching the YouTube videos, but was stuck for more than 3 years in a limbo &certainly was not able to get moving forward, until I saw Ross Rosenberg's YouTube video which seemed a ray of hope until the SL cure book was published.. And it alas seemed like my indefinite search was over :) & my prayers were answered... I didn't seek a therapist assistance and tried to go through the process on my own and it worked... And soon I was able to pass the 7th stage of understanding my inner child and its simple ask to acknowledge the childhood trauma... N post that moment i was able to embrace the little Reema and promised her to not let her down any more given any circumstances...So a big thank you and a warm hug to Dr. Ross Rosenberg for helping us dive in the innermost suppressed feeling with utmost simplicity and care. May you live long and help us with different facets of complex psychology .. to help individual's like me and many others whom the traditional psychotherapist don't understand at all (specially in India, though after charging hefty fees, we are left with the ongoing search for THE 1 who can HELP US, I truly feel there are innumerable educated ILLETERATE therapist) who cause more harm
Ann Wooster on Oct 22, 2019 Was Trauma Blind But Now I See
I have spent a lifetime talking to therapists, reading self-help books, and listening to spiritual gurus, attempting to understand my trauma responses. The truth is, there is no understanding on a rational level, and this seminar finally helped me see that my inner trauma child has been speaking loudly to me for the last few years, integrating with my adult self. My brain did what it had to do to survive, and I developed trauma blindness as a result, falling into friendships and relationships with familiar psychopaths/sociopaths/narcissists who gaslit me into believing their wants and emotions were my own. No more.