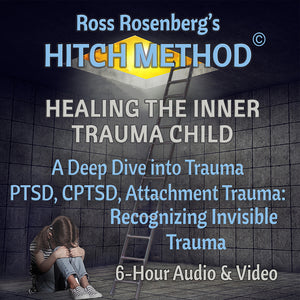 SEMINAR DESCRIPTION:
6-hours video seminar for professional and laypeople.
From live presentation recorded and produced in July, 2019.
The PowerPoint presentation is included, in PDF format.
This seminar is an indispensable element of Ross Rosenberg's Self-Love Recovery Treatment Program - his follow-up to his best-selling Human Magnet Syndrome work. The HITCH Treatment Method represents a remarkable advancement in the mental health field because it provides direction and hope for psychotherapists and their clients, both of whom have been stymied by the treatment resistant nature of codependency. 
The Healing the Inner Trauma Child Technique (HITCH) provides trauma resolution/integration that is effective with PTSD, CPTSD, Attachment Trauma, and other Dissociative Disorders. It is a powerfully effective psychotherapy treatment approach for Self-Love Deficit Disorder (SLDD) – the updated term for "codependency."
By understanding the root causes of Self Love Deficit Disorder/SLDD, and the treatment technique that resolves it, mental health practitioners and the general public will finally have access to what Rosenberg calls his "Codependency Cure™." Expect a discussion of codependency/SLDD's multiple layers and how they are integrated with the underlying attachment trauma cause. Because attachment trauma is disassociated from a conscious awareness, and most psychotherapists do not have the education or training on how to access it, HITCH gives a therapist the tools to go where most therapist have not been before.  
In this seminar, you will learn about psychological trauma of all types, especially attachment trauma. Trauma severity factors, trauma memory subtypes, as well as how and why the brain processes and stores trauma will be presented. Rosenberg's "Paleopsychotherapy" and his "Trauma Continuum" provides helpful new ways to conceptualize and treat trauma. Expect emotionally riveting case examples and video clips of Ross demonstrating HITCH. 
"The Trauma Memory Triad" reconceptualizes how trauma is processed as it occurs, how the brain safely takes it "offline," and how and why it is stored in an almost impossible to reach compartment in the brain. The Triad's "Body Memories" explains how unresolved, untreated, and/or unintegrated trauma "leaks" through the "dissociative barrier," causing psychogenic (real) medical disorders like Fibromyalgia, back and neck problems, and so many others.
This seminar is not only beneficial for various helping professions, but it holds equal value to a general audience. Considering most mental health practitioners and other helping professionals have struggled with their own codependency/SLDD, this training will resonate and have deep emotional impact on them as well.
All sales are final. There are no refunds.