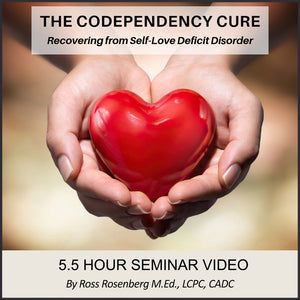 SEMINAR DESCRIPTION:
5.5 hours video seminar for professional and laypeople.

Recorded and produced in March 2018, from live presentation. 
The PowerPoint presentation is included, in PDF format.
The "how to" for the Human Magnet Syndrome material and the basis for Rosenberg's next (third) book.
This updated Codependency Cure™ seminar (version 4) is the follow-up to Rosenberg's Human Magnet Syndrome work, delving deeper into codependency, its trauma and core shame origins.
This seminar represents the most modern and up-to-date thinking about codependency.  "Codependency," is re-defined and re-conceptualized into "Self-Love Deficit Disorder (SLDD)™," which is a trauma, core shame, pathological loneliness, and addiction disorder. 
Not only will this seminar provide information about how to resolve a person's life-time battle with SLDD, but it will also facilitate hope and optimism for both the codependent, SLD, and/or trauma practitioner, or the person struggling with these conditions.
MATERIAL PRESENTED:
Summarizing the Human Magnet Syndrome
Codependents (SLD's) Cannot be Narcissists
Renaming "Codependency" to Self-Love Deficit Disorder (SLDD)
Review of The Ten Stage Self-Love Recovery Treatment Model
The Self-Love Deficit Disorder Pyramid
Attachment Trauma – The Cause of SLDD
Core Shame's Role in SLDD
Codependency Withdrawal, Addiction and Pathological Loneliness
Why sex and romance Is Prohibited During Certain Stages
Rosenberg's Trauma Continuum
Setting Boundaries with Hostile and Dangerous Narcissists
Managing Narcissistic Injuries
Neutralizing Narcissistic Abuse
The Observe Don't Absorb Technique
"Predictive Awareness:" Preparing to Set Boundaries with Pnarc's
Power and Control Strategies Used by Narcissists to Control SLD's
Resolving/Integrating Attachment Trauma
Paleonpsychotherapy: Treating Trauma by Unearthing Trauma Fossils
Transitioning from SLDD to Self-Love Abundance (SLA)
Developing a "Narcometer," The Internal Narcissism Warning System
The Healing Properties of Sadness and Grief
Forgiveness Is a Choice, Not a Mandate
Self-Love Abundance and Spirituality