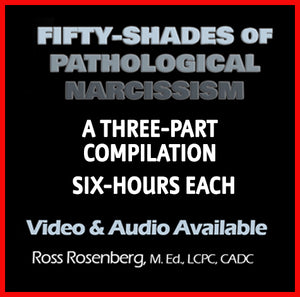 INCLUDED:
Part 1: The Problem. What is Pathological narcissism and narcissistic abuse syndrome?
Part 2: The Reasons. Why codependents cannot break free?
Part 3. The Instructions. What to do to overcome narcissistic abuse?
A Deep Dive Into Pathological Narcissism and Narcissistic Abuse
This is an in-depth study of Pathological Narcissism, which includes those individuals with Narcissistic, Borderline and Antisocial Personality Disorders, and the various subtypes. In these six-hours, Ross delves deeply into narcissism, the problem and the person. Moreover, he presents ground-breaking original information about Narcissistic Abuse Syndrome and its many manifestations. It will be the most comprehensive, educational and inspirational presentation on these topics, that Ross has ever given. Be prepared to learn more about narcissism and narcissistic abuse than you could ever have imagined.
Why SLDs/Codependents Cannot Break Free From Narcissistic Abuse
Expect a thorough and detailed examination of the type of person who is most likely to be abused by a narcissist – codependents. Ross will introduce his Self-Love Deficit Disorder™ take on Codependency and explain why the bonds created with narcissists are seemingly impossible to escape from. Anticipate a thorough and multi-layered presentation on the various forms, strategies, and techniques that Pathological Narcissists use to entrap their Codependent victim. In addition, Ross will provide detailed information about every form of Narcissistic Abuse he knows (and he knows a lot!), which includes Gaslighting, Induced Conversation, The Human Magnet Syndrome, Hoovering, and dozens more!
How To Survive Narcissistic Abuse Syndrome: Strategies and Techniques
This is the "how to" and "what to do" information that Ross has been promising to write about since the release of his 2013 Human Magnet Syndrome book. Expect to be inspired, educated, and guided on Rosenberg's one-of-a-kind original and practically oriented material. In this seminar Ross will present his Codependency Cure Treatment Program's techniques, tools, and exercises that were specifically developed to help victims to overcome, escape, and permanently rid themselves of narcissistic abuse. In addition, he will explain how such important practically oriented material fits in his treatment program. Expect a riveting and highly engaging presentation that will be packed with content that has already received millions of supportive comments and reviews on his YouTube channel.