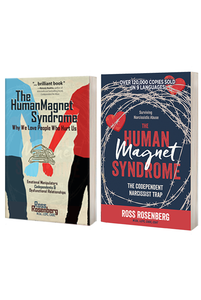 SECOND EDITION (2018)
The Codependent Narcissist Trap
Paperback: 275 pages
Publisher: Morgan James Publishing Company February 7, 2018
Language: English
The Human Magnet Syndrome completely rewrites what we know and understand about codependency and narcissism.  This break-through book has sold over 155,000 copies and is published in 12 languages.  It is a codependency staple for both mental health professionals and the clients they help.  Its success is the driving force behind his YouTube channel's success, which has accumulated over 23 million views and 258,000 subscribers. 
The Human Magnet Syndrome: The Codependent Narcissist Trap is a complete rewrite of Rosenberg's 2013 version.  It includes over 125 pages of new material.  The book explains why people are magnetically and irresistibly drawn together, not so much by what they see, feel and think, but more by invisible unconscious relationship force.  It explains relational "chemistry" and why its irresistibly alluring and seductive "love force" is impossible to avoid.  Codependents and pathological narcissists simply cannot avoid HMS's inevitable dysfunctional opposite match-up.  What starts off as the codependent's dream "soul mate" almost always transforms into their nightmare "cellmate."
FIRST EDITION (2013)
Why We Love People Who Hurt Us
Note: The first edition of the book is no longer being published and is now considered a collector's item.
Since the dawn of civilization, men and women have been magnetically and irresistibly drawn together into romantic relationships, not so much by what they see, feel and think, but more by invisible forces. When individuals with healthy emotional backgrounds meet, the irresistible "love force" creates a sustainable, reciprocal and stable relationship. Codependents and emotional manipulators are similarly enveloped in a seductive dreamlike state; however, it will later unfold into a painful "seesaw" of love, pain, hope and disappointment. The soul mate of the codependent's dreams will become the emotional manipulator of their nightmares. Readers of the Human Magnet Syndrome will better understand why they, despite their dreams for true love, find themselves hopelessly and painfully in love with partners who hurt them. This book will guide and inspire both the layman and the professional.