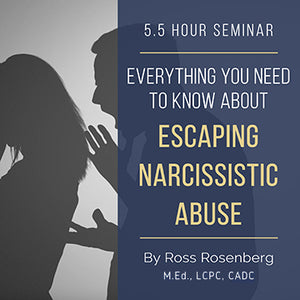 SEMINAR DESCRIPTION

:
5.5 Hour Video Seminar for Professional and Laypeople.

Recorded and produced in July 2019, from live presentation. 
The PowerPoint presentation is included, in PDF format.
Preparing for The Narcissistic Storm: Stage 6

Stage 6 of the 11-Stage Self-Love Recovery Treatment Program helps to educate, empower, and guide you to avoid future gaslighting and narcissistic abuse. Learn how to set up clear boundaries while completely disengaging from narcissistic relationships.
This seminar includes the basics of how codependents and narcissists interact; the common manipulation, power dynamics, and mind control strategies that narcissists use to keep you imprisoned; and information on how you can expect your narcissist to react to boundary setting.
You will learn simple steps to neutralize stealthy engagement strategies used by narcissists. You will master the Observe, Don't Absorb (ODA) Technique to safely disconnect from the toxic "wrestling match" that the narcissist will do almost anything to keep them engaged in.
This stage empowers you to understand and master "psychological chess games" that narcissists love to play, and helps you prepare for their next "move". It enables you to get proactive, educate yourself, and seek supportive treatment to prevent relapse and failure associated with codependents.
Some of the material presented:
Developing "Predictive Awareness"
False Power Syndrome
Induced Conversation
Worst-Case Scenario Exercise
Cost-Benefit Exercise
Secretly building resources
Dismantling triangulation
Avoiding narcissistic injuries
Grey Rock Technique doesn't work
Gaslighting and Stockholm Syndrome
The dangers of marriage/couples counseling and mediation
Setting Boundaries in a Hostile Environment: Stage 7
During Stage 7 of the 11-Stage Self-Love Recovery Treatment Program, things begin to step up. Prepared codependents begin to move towards their escape plan from narcissistic abuse, and narcissists react.
They understand and accept that they may lose friends, loved ones, and even family members during this stage (Rosenberg's "Surgeon General's Warning") except those to whom the codependent has little choice but to remain connected—such as an elderly parent or a husband who controls the finances and/or children.
As the codependent begins to set boundaries, they get the first taste at true self-love, respect, and hope. Additionally, understanding the last-ditch effort of the narcissist and their dysfunctional mental health problems, the codependent proceeds to break free from their former relationship role. During this stage, we also discuss the potential for relapse and how to navigate their addiction.
Some of the material presented:
Ross's "Surgeon General Warning"
The Three Strike Boundary Rule
Setting boundaries in a hostile environment
Boundaries for narcissists do not work
Preparing for Retaliation
Roller Coaster Amnesia
Breaking the secrecy rule
The "Humanizing" trick
Hoovering and its various "masks"
All sales are final. There are no refunds.